Toyota vs Hyundai
When it comes to vehicle choices, the options out in the market seems endless. Two of the most popular brands out there in the automotive industry include Toyota and Hyundai. These two brands of vehicle are usually compared to each other by critics and are competitive with each other. They have economic choices in comparison to many makes of their individual vehicle line ups. Every year that a new model comes out, designers strive to add features and options that will make these vehicles stand apart from one another.
With such models like the Toyota Corolla being comparable to the Hyundai Elantra in the compact sedan category, and considering their usual closeness in starting price, it comes down to what the buyer is looking for as far as trims, accessories and additions to make that final purchase decision. Other factors that must be considered are warranty packages and what comes standard in the vehicle if you are not looking for too many options. Also, look for engine specifications as well as gas mileage and resale value. There are a lot of options and facts to consider. Test drive your choices and look for details such as comfort, space and storage options. Other competitors within those brands can also include the Hyundai Sonata versus the Toyota Camry. These are popular choices due to quality and are good small family cars with economic starting points.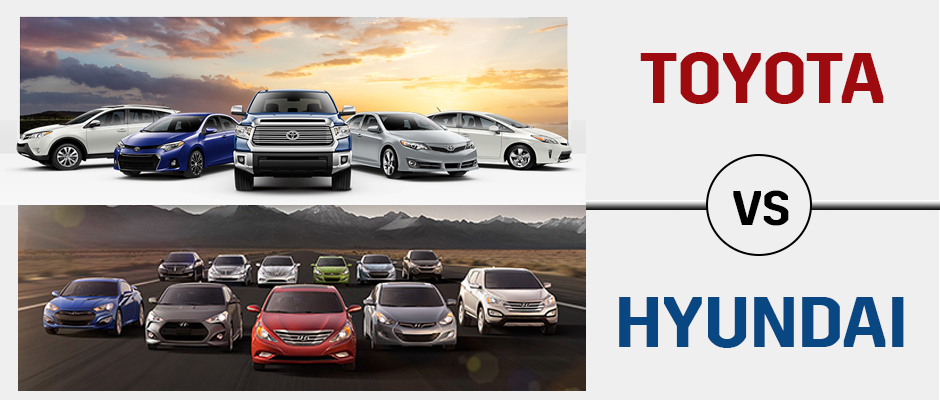 A few comparable models from Toyota and Hyundai line up that you can check with our comparison tool
With our comparison tool you can quickly select which Toyota model to compare to Hyundai and get information on current model for safety, warranty, engine, ratings, resale value, reliability and much more so you can make an informed decision on your next auto purchase in Delray Beach, FL.
Toyota Corolla vs Hyundai Elantra
Toyota Camry vs Hyundai Sonata
Toyota Avalon vs Hyundai Azera
Toyota Rav4 vs Hyundai Tucson
Toyota Highlander vs Hyundai Santa Fe
Test drive a Toyota in Delray, FL
Sitting fourth on Car and Driver magazine's family sedan rankings, the Camry is priced at around $22,000 to $24,000 for the base model, depending on where you look. Just as the Sonata did, this model also received the IIHS Top Safety Pick+ and outperformed the Sonata when it comes to child seat anchors ease of use. This is an important point to note for families looking for a four-door SE. If you are looking for resale value and top safety features look no further than a Toyota.
There are of course lovers and critics to both Toyota and Hyundai brands. The only way to be confident in your purchase is to make an informed decision. Therefore, it is important to take the time to go through the process of comparing standard features and deeper details for each of the models you are interested in, test drive both vehicles, look for feedback and decide which is the vehicle make and model for you and your family.
Interested in comparing Toyota with other brands? Below we have put together some of the favorite compared models.
Toyota Yaris vs Honda Fit
Toyota 86 vs Subaru BRZ
Toyota Corolla vs Chevrolet Cruze
Toyota Highlander vs Nissan Murano
Toyota Highlander vs Nissan Pathfinder
Toyota Tacoma vs Honda Ridgeline
Toyota Tundra vs Chevrolet Colorado
Toyota RAV4 vs Ford Escape
Drivers interested in a vehicle that offers top-of-the-line safety with comfort and convenience should look no further than the a new Toyota. All of our Toyota come with a ToyotaCare a no cost service plan with 24-hour roadside assistance and covers normal factory scheduled service for 2 years or 25,000 miles whichever comes first! Learn more about the ToyotaCare Peace of Mind. Schedule a test drive online today. Our team here at Delray Toyota will be more than happy to answer any further questions you may have, so contact us today!