Toyota vs Ford: 2017 Camry vs 2017 Fusion
A vehicle is one of the most important assets in the life of a person. This is the reason that you want to make sure that you invest in the best product that will serve you for many years with its class and quality. However, many automotive manufacturing industries in the market have been providing their customers with a great selection.
However, the introduction of Camry and Fusion have confused the automotive lovers. Two of the best- selling midsize sedans in a very competitive market. Both the vehicles have the high-end manufacturing due to which making the decision is not an easy task. So to help you out here we have the perfect comparison.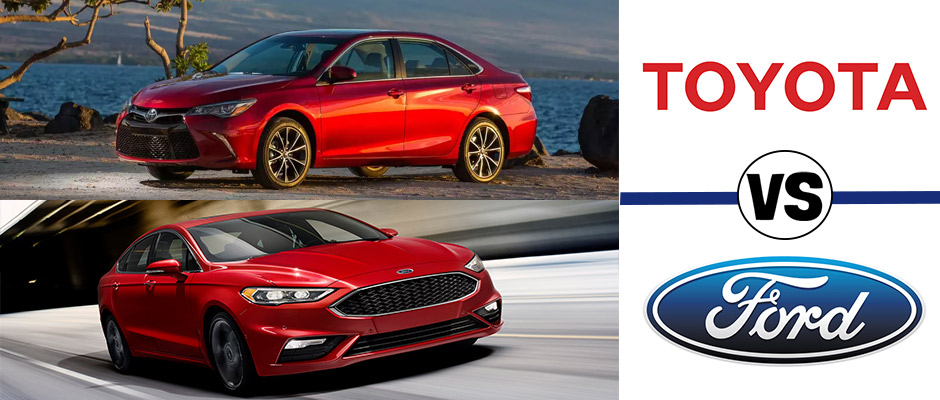 Compare the Toyota Camry and Ford Fusion model line up with our comparison tool
With our comparison tool you can quickly select which the Toyota Camry model to compare to the Ford Fusion and get information on current model for safety, warranty, engine, ratings, resale value, reliability and much more so you can make an informed decision on your next auto purchase in Delray Beach, FL.
Once again, Toyota and Ford has grabbed the attention of the automotive lovers with their mesmerizing sedans Camry and Fusion. The standards of both vehicles are very high because of the introduction of latest specifications. The first thing that you have to consider is that both Camry and Fusion are available in different models.
The major attraction of the Fusion is the infotainment system that has 3-touchscreen synchronization. Apart from that, it has all the latest features like USB connectivity, app integration, and many others. The interior of the vehicle is very stylish and comfortable to ensure that you will have a relaxed ride.
On the other hand, Camry has the great safety features to enhance the protection. The car will run smoothly so that you will not even notice the bumps and the uneven road. The looks of the car are amazing. It has stylish headlights and the exterior aerodynamic design and high performance ratings
The Technical Features of the Camry vs Ford
Camry 4 cyl. gets better fuel mileage than the Fusion FWD with its standard engine (24 city/33 hwy vs. 21 city/32 hwy)
Ford Fusion has been manufactured with the 175-hp, I-4 2.5-liter engine while Camry has the 178-hp, I-4 2.5-liter
Fusion has the 6-speed automatic transmission while Camry has 6-speed automatic transmission
Both have seating capacity of 5 individuals
Toyota pays for scheduled maintenance for 2yrs / 25k miles. Ford doesn't pay scheduled maintenance.
Considering your requirements and budget select the best car to make your every journey memorable.
Test drive a New Camry today! We are conveniently located in Delray Beach serving Boynton Beach, Boca Raton and West Palm Beach and surrounding areas.