Toyota Corolla vs Chevrolet Cruze
Toyota Vs Chevrolet: 2017 Corolla vs 2017 Cruze
When coming towards the selection of the vehicles there is a wide range of choices available in the market. We all know that it is one of the major investments so everyone wants to make sure that they will get the best. This is the reason that Toyota and Chevrolet have been the top choices of people near Wellington, Royal Palm Beach, and West Palm Beach.
On the roads, you will often notice that people prefer these brands. The reason is that they have never compromised on quality. They have been serving their clients with the best compact sedans.
The best features of Toyota and Chevrolet is that they have been manufacturing the high-tech vehicles to increase their customers count. It is a reality that competition is never going to end. This is the reason that they often launch the latest vehicle one after the other.
Recently, the Corolla and Cruze has confused the automotive lovers that in which vehicle they should invest. Both of them have been developed by the best manufacturers in the industry. So in order to resolve your confusion here is a comparison that you should focus on.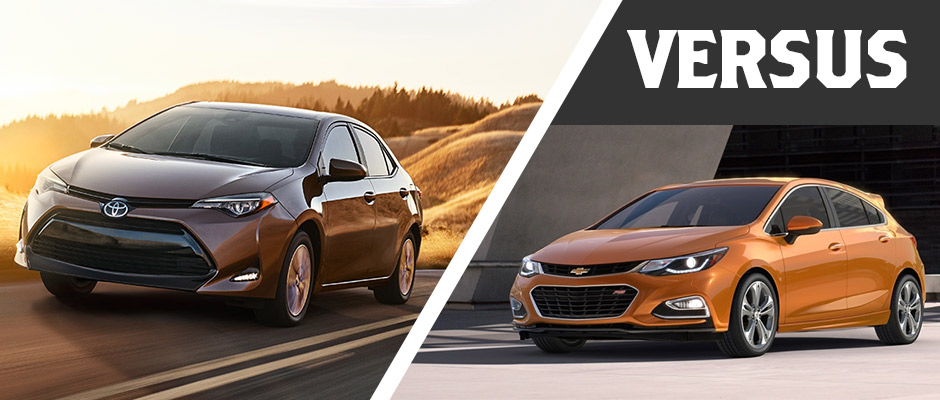 2017 Corolla vs 2017 Cruze
The small-sized sedans are the most wanted vehicles around the globe. The reason is that they are perfect for personal use, you can even take it to your business meetings, and the clients will be amazed by your choice.
Now the question arises that which car you should select Corolla or Cruze. Here we have the comparison between their technical features that you need to consider in order to decide:
Cruze has a sharp style, whereas the Corolla has a sleeker design.
The Corolla has a standard locking fuel door with a remote release located convenient to the driver. A locking fuel door helps prevent vandalism, such as sugar in the tank and fuel theft. The Cruze doesn't offer a locking fuel door.
Corolla has the most amazing safety features that will provide you with the perfect and secure drive as well as you will have the peace of mind that the vehicle will protect you. Cruze has been manufactured with the common safety features you might not find anything technological.
You will be amazed to know that both of the vehicles has the same rate of fuel consumption that is 32 MPG
The Corolla has standard front and rear stabilizer bars, which help keep the Corolla flat and controlled during cornering. The Cruze's suspension doesn't offer a rear stabilizer bar.
So make sure that you take the right decision. Looks are important as well but an essential thing to consider while buying the vehicle is that it should meet your requirements and your budget. Come test Drive a Corolla today we are in Delray Beach only minutes away from Wellington, Royal Palm Beach and West Palm Beach!