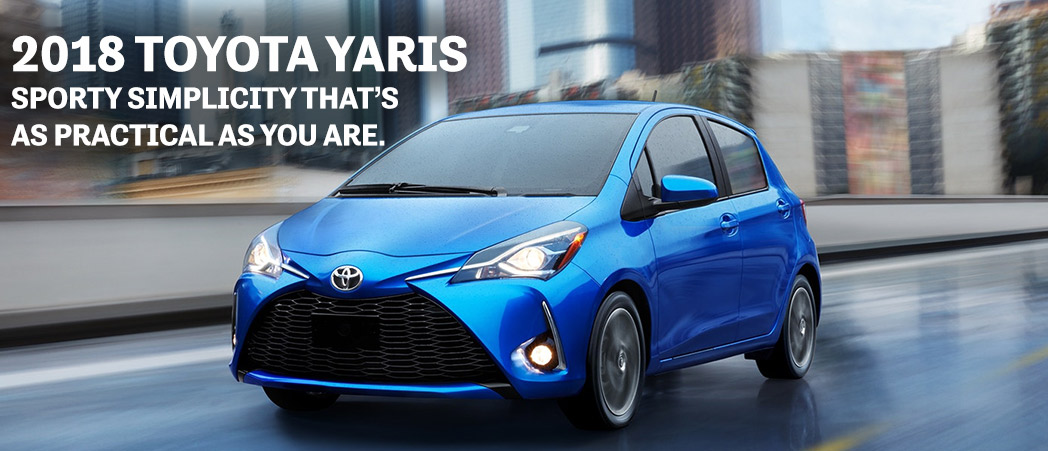 2018 Toyota Yaris near Lake Worth & Boynton Beach
Accessible in two and four door body styles, 2018 Yaris by Toyota hatchback is perfect in case you're searching for a solid vehicle with simple to-stop measurements and an extremely reasonable cost. The 2018 Yaris is all about character—new features and style that offer you everything you need, and nothing you don't.
New in 2018 Model of Yaris by Toyota:
Even though a new front belt, Yaris 2018 by Toyota gets an updated infotainment framework as well as another instrument bunch in the L and LE trim levels with the multi-data display. Blue Eclipse is replaced by the Blue Streak Metallic whereas the Crushed Ice is replaced with dark rooftop is replaced by the Blue Streak with a shadowy rooftop as the second two-tone outside shading.
Trim levels and features offered by Toyota Yaris:
The 2018 Toyota Yaris near Lake Worth & Boynton Beach is the minimal rear door that is accessible in the two body styles, having only one motor along with the two transmissions. The Yaris 2018 L and LE trims are offered with two and four entrance; the SE model is offered just as a 4 entryway. The 2 entryways L as well as four entrance way SE are offered with the five-speed manual transmission, whereas the four-speed programmed is discretionary on those trims as well as the standard on everything else. A 1.5l four-barrel motor is standard over all body styles and trims.
Styling of the 2018 Toyota Yaris:
Credit where it's expected: At minimum, the Yaris 2018 received stylish upgrades. The Yaris 2018 by Toyota gets the new front and back guards.
Safety Features of 2018 Yaris:
Standard Toyota Safety Sense™ C (TSS-C) it consists of standard pre-collision system, standard lane departure alert and standard automatic high beams.
Inside of 2018 Toyota Yaris:
Yaris features a roomy interior filled with lots and lots of extras. And we mean helpful extras. Yaris demonstrates how pure and practical can also be sporty and stylish.
Discover your perfect 2018 Toyota Yaris
Come to Ed Morse Delray Toyota near Lake Worth & Boyton Beach to test drive one today!